This post may contain affiliate links for products I mention. If you click a link and buy something I may receive some compensation. This does not change the price you would pay.
Where to Buy
Meet "MindMovies" – the BEST Online Vision Board!
Our top pick in vision board software, Mind Movies is the number 1 online vision board because it was created by the LOA experts. It gives you the tools, knowledge and power to propel yourself out of the rut where you're stuck and into the life you really want.
There's nothing to download, it's easy to use, and it includes everything you need – pictures, affirmations, power words, background music, and more. (Read on for complete details.)
You're about to discover how to take your life to a whole new level!
Scroll down to read more, or click a link to skip ahead:
Editor's Note:
This page is not some random sales pitch.
I recommend this online vision board because I use it myself and I love it.
In fact, my personal experience has been that everything offered by the Mind Movies team is first rate. To find out for yourself, see
"What works even better" below – a great learning experience that's completely free.
~ Peace, Susan
What is a mind movie?
It's a vision board on steroids! Using the Mind Movies 4.0 Creation Kit, you can quickly and easily create a "slideshow" type movie of your perfect life, or of a certain aspect of your life that you intend to improve. Watch online or download your vision board movie on your computer, phone, or other mobile device so that throughout your day it helps you maintain clarity about your vision and stay positive and focused.
These vision board movies are complete with pictures, text affirmations, and music. Adding music is particularly powerful because of the way it stirs our emotions. In fact, one vital key to success is feeling strong emotion connected to what we envision.
How does this online vision board work?
A Mind Movie works with the psychology of the brain by combining photos, affirmations and music into a visualization tool that engages the subconscious. Motivational and emotionally inspiring, your mind movie helps you turn what you only wish you had into what you do have.
Mind Movies vs. Free Vision Board Software
There are a number of websites that offer vision board software you can download for free. Needless to say, free is great! However, here's what you need to know.
First, to my knowledge, none of the free vision board software will create an actual video. All those I've researched simply create a collage. You can usually download that collage to your computer or mobile device, and if that's all you're after then you may be perfectly happy with that. Just be aware that all you will have is a still picture.
(Note that if you just want to make a still picture collage see our How To Make A Vision Board page for instructions on creating vision board using Pinterest and your smart phone.)
On the other hand, what you create with Mind Movies is a video with images, affirmations that you choose or write yourself, and music. That, along with the information from the Mind Movies folks about how to create an effective video vision board, is quite a step up from a basic collage.
There is one other thing to note about free online software. Sadly, these days even many of the most reputable sites add little "extras" to those downloads that you didn't bargain for. At best it may only be an annoying browser tool bar. At worst it can be adware or malware that is intrusive or destructive. (One way to avoid that is to never allow an "automatic" install. Always choose "custom" install, then pay close attention and uncheck every option that is offered so that, hopefully, the only thing that gets installed will be the free software that you want.)
With Mind Movies Software this is not an issue because there is nothing to download or install. You access the software by logging in to your account online. It's fast, simple, and safe.
In addition, your software is always up to date. Any time a new version comes out, your account gets automatically upgraded, and that requires zero effort on your part.
Mind Movies 4.0 Features (to name just a few!)
Works on PC (Windows) and Mac
Nothing to download or install – just log in to your account
Easy to learn, simple to create your own custom mind movies
Photos, Affirmations, Music – select from the Mind Movies library or use your own
Watch your mind movies online or download to your desktop computer or mobile devices
Includes lots of valuable bonuses
Software includes advanced options for power users who want to get ultra creative
Upgrades Are FREE – Once you purchase Mind Movies, you have lifetime access to the most recent version. The software is automatically updated for you, so there is nothing you have to buy or install.
Best of all, your investment in Mind Movies is protected by a
100% 60-Day Money Back Guarantee
Option I
(Highly recommended – Do this first!)
I deserve the best, and I want to take advantage of a totally free offer to learn more. Tell me about…
Option II
(Okay, if you absolutely insist!)
I can't wait! I want to get Mind Movies 4.0 and all the awesome bonuses right now.
What works even better than the Mind Movies online vision board? (and it's free)
It doesn't get any better than this:
Get a jumpstart on your new and improved life, starting right this minute, without investing a dime!
The best vision board on earth is useless if you're standing in your own way. Unfortunately, the vast majority of us are doing exactly that, and we don't even realize it.
Are you a victim of your own self-sabotage? If you're thinking oh, not me, remember that it's extremely difficult to be completely objective about yourself. That's not a put-down. It's just human nature.
The good news is that there's a simple way to find out.
Are you willing to invest half a minute in creating a better future for yourself? Then stop right now and click the image below to take this unique quiz created by Natalie Ledwell and the Mind Movies team.
It's fast, it's easy, and it just might change your life!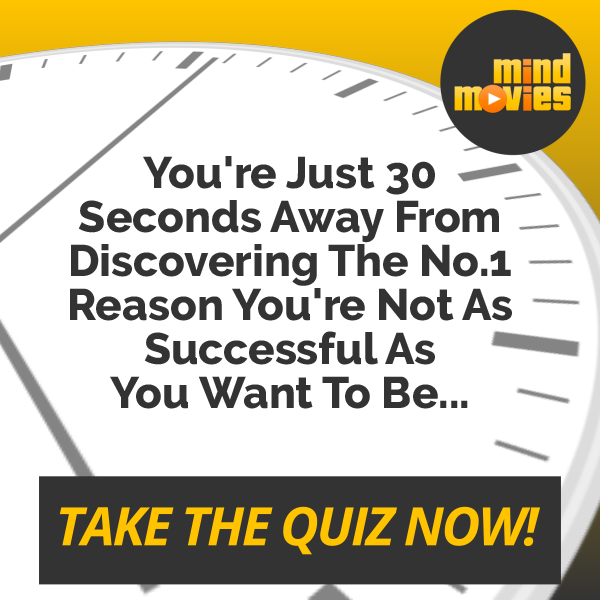 On a personal note…
I've used vision board software for years, and I've made some great Mind Movies and experienced success from using them. Still, I had no idea what I was missing – because we don't know what we don't know, right?
For me, the turning point came when I got involved in the Mind Movies community. Taking that quiz above will get you on their mailing list, and you won't regret it because you won't get bombarded with a bunch of annoying pushy sales letters. What you will receive is high quality content that you can actually use.
Of course they are also going to offer products for sale now and then. They're a business, and that's smart marketing. There again, I can tell you from personal experience that you won't be disappointed – if you are, everything is covered by a 60 day money back guarantee, no questions asked. However, it's doubtful you'll ever ask for a refund. It's impossible to explain all the many ways I have benefited from Mind Movies materials and courses. Suffice it to say that the insights have been invaluable and have led to real, significant progress toward my personal goals.
I urge you to give the quiz a try

, and I sincerely wish you all the best on your journey.
Peace,
Susan
Yes, take me to the quiz.

No thanks, just take me to buy the Mind Movies vision board software.
---
What is Vision Board Software? Try it and Discover the Power of Digital Vision Boards Today!
Follow us!